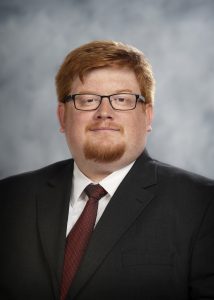 Dr. Ryan Green is currently an Assistant Professor in the Department of Electrical
and Computer Engineering at Mississippi State University. He received his B.S. in
Electrical Engineering and M.S. in Electrical and Computer Engineering in 2011
and 2013, respectively, from Mississippi State University. He received a Ph.D. in
Engineering from Virginia Commonwealth University in Richmond, Virginia in
2019. His research interests lie at the intersection of Smart City Communications
and Devices, Wireless Medical Telemetry, and Thin Film Antennas. In particular,
he is interested in developing communication systems for 5G, implantable devices,
wearable devices, and mobile laboratories. Dr. Green is the recipient of an
Outstanding Teaching Assistant award (2018), Graduate School Dissertation Assistantship (2018), and
the 2021 Outstanding Teaching award from NSBE and Image at MSU.
* For further information contact: Dr. Jenny Du | du@ece.msstate.edu | 5-2035
Webex Information:
Friday, May 7, 2021 2:00 pm | 1 hour | (UTC-05:00) Central Time (US & Canada)
https://msstate.webex.com/msstate/j.php?MTID=mc5f268bcf9dd5e567baefb47e14af55d
Meeting number: 120 644 2313
Password: KnH5FJcnj33
Join by video system
Dial 1206442313@msstate.webex.com
You can also dial 173.243.2.68 and enter your meeting number.
Join by phone
+1-469-210-7159 United States Toll (Dallas)
+1-415-655-0001 US Toll
Access code: 120 644 2313
The Department of Electrical and Computer Engineering at Mississippi State University consists of 23 faculty members (including 7 endowed professors), 3 clinical faculty, 10 professional and support staff, and over 700 undergraduate and graduate students with approximately 88 being at the Ph.D. level. With research expenditure of the department in excess of $10M, the department houses the largest High Voltage Laboratory among North American Universities. For more detailed information on the department please visit our website www.ece.msstate.edu.