ECE Student Wins IEEE PES Scholarship
February 26, 2021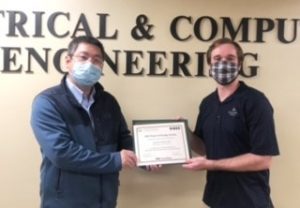 Jackson Mohundro, a Senior Electrical Engineering major from Columbia, Tennessee, has been awarded a scholarship from IEEE's Power and Energy Society. IEEE, or the Institute of Electrical and Electronics Engineers, is the world's largest professional organization for the advancement of technology with over 419,000 members in over 160 countries.
After graduating in May, Jackson will work with Mississippi Power Company, one of the operating companies for Southern Company. He accepted a full-time offer in late December.
"I also plan to work towards passing my F.E. examination and regaining my FAA Part 107 Remote Pilot's License to better serve my company," said Mohundro.
When asked about why he decided to apply for this scholarship, Mohundro responded, "Honestly, I think applying for this scholarship is a great example of how beneficial it can be to try something new. I knew nothing about this opportunity until I received several emails from the ECE department. Now, it's helping me work towards limiting my student debt."
He continued, "From my co-op experience, the professional world expects you to be comfortable with branching out and trying new endeavors. My advice is for anyone pursuing a career in power and energy to apply for this scholarship and keep working to become a life-long learner."
The ECE Department is very proud of Jackson and his accomplishments. "It is great seeing such qualified students being recognized. We are looking forward to what Jackson will do in the future," said Kylie Crosland, ECE Program Coordinator.
The Department of Electrical and Computer Engineering at Mississippi State University consists of 23 faculty members (including 7 endowed professors), 3 clinical faculty, 10 professional and support staff, and over 700 undergraduate and graduate students with approximately 88 being at the Ph.D. level. With research expenditure of the department in excess of $10M, the department houses the largest High Voltage Laboratory among North American Universities. For more detailed information on the department please visit our website www.ece.msstate.edu.