ECE Student Wins MES Scholarship
February 26, 2021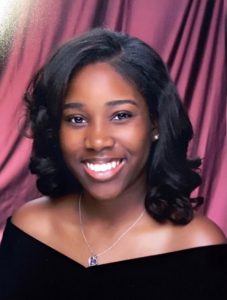 Kaitlyn Jackson, a junior from Moss Point, was recently awarded a scholarship from the Mississippi Engineering Society (MES). Since 2005, MES, which is part of the National Society of Professional Engineers, has awarded over $200,000 to qualified undergraduate students enrolled in an ABET-EAC accredited engineering curriculum at colleges of engineering in Mississippi. This year, 10 students from MSU received the scholarship.
Jackson has stated choosing Electrical Engineering was not a direct path. "When I started attending Mississippi State, I wasn't sure of what engineering discipline I wanted to pursue," she said. "I was unsure of what I wanted to do in the future, but after participating in a volunteer event working with other engineering disciplines, I discovered my passion for electrical engineering."
After graduation, Kaitlyn plans to work with a company as a hardware design engineer. "While there, I hope to gain as much knowledge and experience that I need to propel me in starting my own product development company in the future," she revealed.
"We are so happy to have hard working students like Kaitlyn in our department. Her drive and willingness to go the extra mile are qualities for great students," said Carrie Black, Academic Coordinator for the Electrical and Computer Engineering Department.
A virtual ceremony was held earlier this month honoring the recipients.
The Department of Electrical and Computer Engineering at Mississippi State University consists of 23 faculty members (including 7 endowed professors), 3 clinical faculty, 10 professional and support staff, and over 700 undergraduate and graduate students with approximately 88 being at the Ph.D. level. With research expenditure of the department in excess of $10M, the department houses the largest High Voltage Laboratory among North American Universities. For more detailed information on the department please visit our website www.ece.msstate.edu.