Toy Adaptation program receives honorable mention in MSU's Community Engagement Awards
January 8, 2021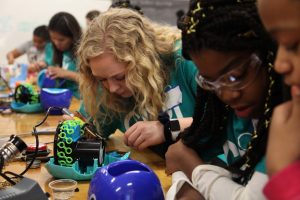 "ECE Toy Adaptation Program," submitted by MSU Assistant Professor of Electrical and Computer Engineering, Jean Mohammadi-Aragh, was recently awarded an honorable mention for Community-Engaged Teaching and Learning by MSU's Center for Community-Engaged Learning, Office of the Provost and Executive Vice President, Office of Research and Economic Development, and the Division of Student Affairs.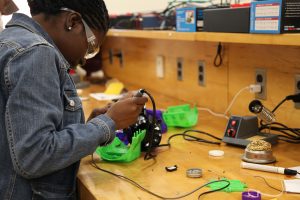 Partnering with MSU's T.K. Martin Center for Technology and Disability, the project provides hands-on, community-focused learning opportunities through modification of electronic toys. ECE students, faculty and staff create interactive toys that enable children with developmental disabilities to learn concepts such as letters and numbers and gain fundamental experiences such as cause-and-effect from pushing a modified button or switch to operate a toy. These toys help develop motor skills, communication skills and independence in children. The electronically modified toys are donated to the T.K. Martin Center and are used in therapy sessions by speech pathologists and occupational therapists, as well as given to some families during home visits.
Original post linked here, written by Landon Gibson.
The Department of Electrical and Computer Engineering at Mississippi State University consists of 23 faculty members (including 7 endowed professors), 3 clinical faculty, 10 professional and support staff, and over 700 undergraduate and graduate students with approximately 88 being at the Ph.D. level. With research expenditure of the department in excess of $10M, the department houses the largest High Voltage Laboratory among North American Universities. For more detailed information on the department please visit our website www.ece.msstate.edu.