ECE Faculty Featured In MSU's Volunteer Month Project
May 4, 2021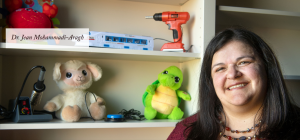 Dr. Jean Mohammadi-Aragh was featured in MSU's Volunteer Month Photo Project for her Toy Adaptation project in ECE 1013 Intro to ECE Design 1 honors class. This course is typically taken in a student's first term in Electrical and Computer Engineering to introduce the profession and program as well as introducing design concepts, teaming, and technical communication.
When asked, how do you set an example in the classroom as a volunteer?, she said "I was looking for opportunities to help my students see the immediate societal impact that they could make as electrical engineers. They already learn a new skill of how to solder iron to take apart electronics and put them back together. So, we partnered with a colleague at Ohio State who had just starting piloting a toy adaptation program, and we began to collaborate to make toys to help students and children with disabilities. A lot of toys are not designed inclusively and some children aren't able to use them as they were designed. I wanted to show my students how they can do something that really makes a difference. It really helps them see how their profession makes an impact." Modified toys are then donated to the T.K. Martin Center for Technology and Disability located on MSU's campus to be used in therapies with children in their service area or donated to the families that they serve.
For more information about Dr. Jean Mohammadi-Aragh: https://www.ece.msstate.edu/people/faculty/jean-mohammadi-aragh/ 
The Department of Electrical and Computer Engineering at Mississippi State University consists of 23 faculty members (including 7 endowed professors), 3 clinical faculty, 10 professional and support staff, and over 700 undergraduate and graduate students with approximately 88 being at the Ph.D. level. With research expenditure of the department in excess of $10M, the department houses the largest High Voltage Laboratory among North American Universities. For more detailed information on the department please visit our website www.ece.msstate.edu.