ECE Presents Fall 2021 Design Awards
December 3, 2021
Mississippi State University's Department of Electrical and Computer Engineering (ECE) recognized its capstone design winners for the fall of 2021.
The department's students worked in teams to utilize their skills and incorporate appropriate engineering standards while having multiple realistic constraints, such as economic, environmental, social, ethical, health and safety, manufacturability, and sustainability. Students fabricated their designs, tested their projects, and were evaluated on the design and demonstration of a fully functional project.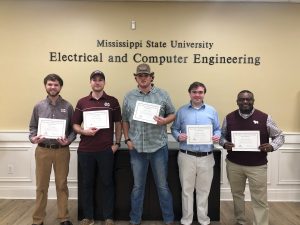 The first-place team was Power Ohm-Bres – Just Follow Me. The team designed an autonomous gardening cart that provides hands-free assistance in transporting gardening supplies. Cart users have a mobile app to control the movement and to use a vertical scissor lift for the cart. Team members include Chad Swinney, Chase Clark, Kyle Jones, Colton Guillotte, and Ryan Perryman, and the team's project advisor was ECE Assistant Professor Ryan Green.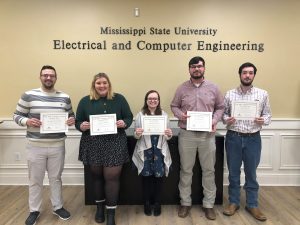 In second place was Collect 'Em All with team members Zach McMullan, Zach Boykin, Roselynn Nelson, Summer Barton, and Brandon Birmingham. The team, advised by ECE Associate Professor Randy Follett, created a system for storing, sorting, and retrieving collectible trading cards.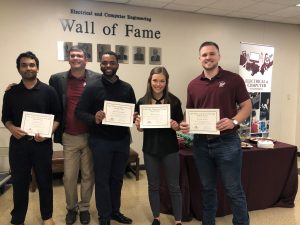 Smart Cornhole received third place, and it includes team members Taylor Brent, Parker Butler, Chirantan Sen, Khalil Markham, and Jeremy Grace. Assistant Professor Mehmet Kurum was the team's advisor, and the design created a system for scoring cornhole games easily.
These capstone projects are completed in the department's senior design class, a course taken by students who have completed all other coursework in ECE, and it allows students to opportunity to demonstrate their skills and knowledge with these projects.
The Department of Electrical and Computer Engineering at Mississippi State University consists of 27 faculty members (including 6 endowed professors), 7 professional staff, and over 700 undergraduate and graduate students with approximately 100 being at the Ph.D. level. With research expenditure of the department in excess of $13M, the department houses the largest High Voltage Laboratory among North American Universities. For more detailed information on the department please visit our website www.ece.msstate.edu.