ECE Student Leadership Spotlight
April 22, 2021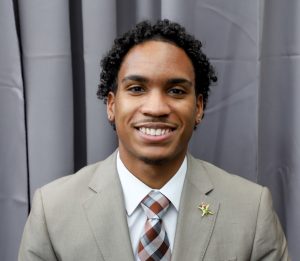 Jonathan Cheeks, President of MSU's chapter of the National Society of Black Engineers
Jonathan, a senior electrical engineering major, was recently selected as the President of MSU's chapter of the National Society of Black Engineers (NSBE). Jonathan said he began his journey at MSU as a software engineering student, but quickly decided he did not want to "be confined to computer screen."
"Electrical engineering provided the same job security with a more hands on approach. My interest evolved when I saw how electrical engineering could be a doorway to innumerous possibilities," the Gluckstadt native said.
Leadership is something that Jonathan knew was going to be part of his journey. "I came to MSU with two main goals: to put myself in a position to be of service to others and to be an example to those following behind. Leading NSBE was the perfect way to achieve these goals."
In addition to NSBE, Jonathan is also a member of IMAGE – a sister organization to NSBE, and SAAS, the Society of African American Studies.
The Department of Electrical and Computer Engineering at Mississippi State University consists of 23 faculty members (including 7 endowed professors), 3 clinical faculty, 10 professional and support staff, and over 700 undergraduate and graduate students with approximately 88 being at the Ph.D. level. With research expenditure of the department in excess of $10M, the department houses the largest High Voltage Laboratory among North American Universities. For more detailed information on the department please visit our website www.ece.msstate.edu.