ECE's Spring 2022 Design Awards Announced
May 2, 2022
Mississippi State University's Department of Electrical and Computer Engineering (ECE) recently hosted its Spring 2022 Design Showcase and announced the design winners.
Over fifty teams from the department's Introduction to ECE Design for first-year students and the ECE Capstone Design for seniors presented their final projects. Students in these courses use their skills to incorporate appropriate engineering standards as part of their work, and they fabricated their designs, tested their projects, and were evaluated on the design and demonstration of a fully functional project.
Each of the two groups had first, second, and third place winners, but the first-place team in the ECE Capstone Design course also received the Ed Blakeslee Senior Capstone Design Award and $1,000. The Ed Blakeslee Senior Capstone Design Award was made possible through the generous donation of electrical engineer alumnus Ed Blakeslee.
Senior Capstone Design Winners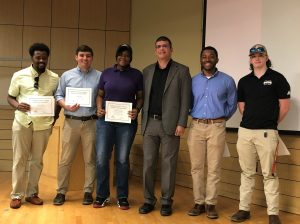 The first-place team and winner of the Ed Blakeslee Senior Capstone Design Award was Joy Ride. Joy Ride is a toy vehicle that allows all children, including those with disabilities, to drive with the use of intuitive controls and various safety features. Team members include Shania Drummond, Jerrick Dubose, Cody Hudson, Ryan Meadows, and Dillon Woods, and the team's project advisor was ECE Associate Professor Dr. Seungdeog Choi.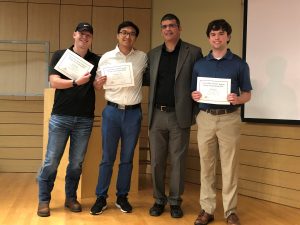 In second place was the Senior Capstone Design group CareVision. Team members Nathan Bond, Alex Rogers, and Christopher Trieu created a streamlined and effective remote monitoring system that helps in the prevention of bedsores. Associate Professor Dr. James Fowler served as the team's faculty advisor.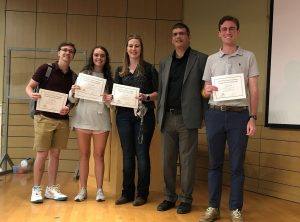 Robo Retriever received third place, and its team members include Caleb Bates, Lindsey Byron, Caleb Hendricks, Grant O'Neal, and April Turner. The project is a remote-controlled vessel that navigates deep bodies of water and retrieves harvested ducks. Assistant Professor Dr. Mehmet Kurum was the team's advisor.
Introduction to ECE Design Winners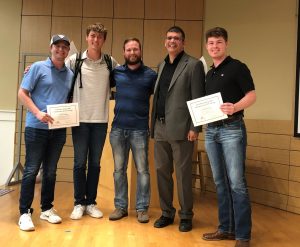 The first-place team for Introduction to ECE Design was SmartCane, which is a cane that can detect obstacles from chest to eye level. Team members Garrett Bradshaw, Slade Hicks, Garrett Mclaurin, and Brandon Waldrup were assisted by senior electrical engineering major Jonathan Cheeks as their mentor.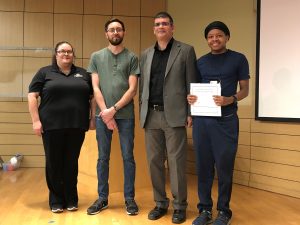 Second place was awarded to the team AREA71 for the project titled The Mage. The Mage provides a pathway for weather forecasters to interrupt unmanned cable television stations when severe weather threatens. Zac Causey, Davenport Hill III, Tyler Mahler, Lea Mohammadi, and Roland Robinson are the team members. Senior electrical engineering major Robert Clark served as the mentor for the project.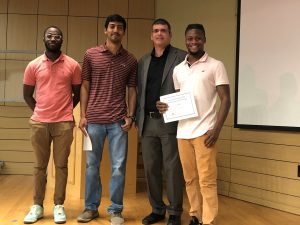 Third place was awarded to Team 26 for their timed pill dispenser, an automatic medicine dispenser activated at given times. The team members include T.J. Barnes, Jon Michael Barnett, Nathan Phan, Adesola Raji, and Kaishu Thomas. Senior computer engineering major Eric Toups served as the project mentor.
The capstone projects are completed in the department's senior design class, a course taken by students who have completed all other coursework in ECE. Faculty advisors assist students in projects. The first-year students in the Introduction to ECE Design receive assistance from the ECE peer mentors.
The Department of Electrical and Computer Engineering at Mississippi State University consists of 27 faculty members (including 6 endowed professors), 7 professional staff, and over 700 undergraduate and graduate students with approximately 100 being at the Ph.D. level. With research expenditure of the department in excess of $11.94 million, the department houses the largest High Voltage Laboratory among North American universities. For more detailed information on the department, please visit our website www.ece.msstate.edu.