ECE Faculty Members Awarded Grant to Assist Transfer Students
August 9, 2021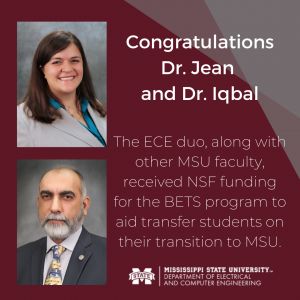 Dr. Jean Mohammadi-Aragh, an associate professor in Electrical and Computer Engineering (ECE), and her team were recently awarded a grant through the National Science Foundation (NSF) to help improve graduation outcomes for engineering students. The $1.48 million grant, titled Improving Engineering Transfer Success through Early Advising and Purposeful Community-Building, will provide scholarships, faculty mentoring, and peer mentoring to eligible low-income students
The Bulldog Engineering Transfer Student (BETS) program was created by Dr. Mohammadi-Aragh and seven other MSU faculty members to help strengthen advising practices for all incoming engineering transfer student and improve belonging and integration into MSU student communities.
Over the six-year duration of the grant, the BETS program will fund scholarships for more than 50 full-time transfer students who are pursuing Bachelor of Science degrees in computer, electrical, industrial, and mechanical engineering, at MSU's Starkville campus as well as MSU's Engineering on the Coast program in Gautier. BETS Scholars will receive up to six semesters of support in the amount of $3,750 per semester.
Other program activities include creating an online, self-paced course, called BETS Transitions, to provide resources to incoming engineering transfer students and establishing a registered student organization, called All BETS On Me, to provide a sense of community and belonging to transfer students. While scholarships may be limited to qualifying students, other BETS activities are designed to improve experiences for all engineering transfer students at MSU on both campuses.
Dr. Mohammadi-Aragh is joined in this venture by Dr. Deborah Eakin, Associate Professor, Psychology; Dr. Lesley Strawderman, Professor, Industrial and Systems Engineering (ISE); Dr. Umar Iqbal, Assistant Clinical Professor, ECE – Coast Campus; Dr. Shane Brauer, Assistant Clinical Professor, Mechanical Engineering (ME) – Coast Campus; Dr. Alta Knizley, Assistant Clinical Professor, ME; Jenna Johnson, Instructor, ISE – Coast Campus; and Dr. Rani Sullivan, Professor, Aerospace Engineering.
For more information about Dr. Iqbal, please visit here.
For more information about Dr. Mohammadi-Aragh, please visit here.
The Department of Electrical and Computer Engineering at Mississippi State University consists of 23 faculty members (including 7 endowed professors), 3 clinical faculty, 10 professional and support staff, and over 700 undergraduate and graduate students with approximately 88 being at the Ph.D. level. With research expenditure of the department in excess of $10M, the department houses the largest High Voltage Laboratory among North American Universities. For more detailed information on the department please visit our website www.ece.msstate.edu.