Fall Intro to ECE Design 2 Awards
April 19, 2021
A belated congratulations to Fall 2020's ECE 1022 Intro to ECE Design 2 winning designs.
Our Intro to ECE Design 2 class is generally taken by our ECE students in their second term at MSU. These students spend a semester working through the design process to complete a prototype of their own team design using an Arduino and set of sensors.
These young engineers have bright futures ahead! Congratulations, teams!
First Place: Guard Dog – Brandon Black, Andrew Donald, Ethan Kilpatrick and Alex Rogers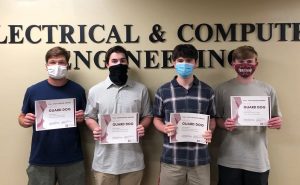 Second Place: Smart Bark – Colton Faulkner, Hunter Harris, Scott Hoerchler, Micah Pickering, Luis Sanchez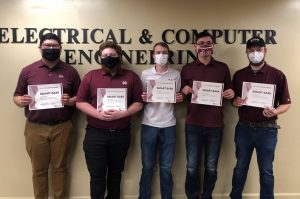 Third Place: Heart Attack Detection Device – Wes Davis, Jeffrey Greer and Megan Tucker (not pictured)