ECE Student Leading Solar Decathlon Team
April 16, 2021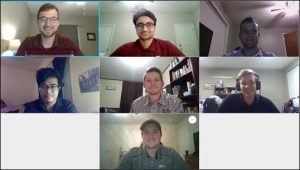 Liam Nelson, a Junior Electrical Engineering major from Madison, Alabama, and his Energy Club teammates are finalists in the Department of Energy's Solar Decathlon. The Solar Decathlon is a collegiate competition that challenges students to design and build high-performance, low-carbon buildings that mitigate climate change and improve quality of life through greater affordability, resilience, and energy efficiency. Liam founded the Energy Club at MSU in 2020.
The Solar Decathlon is hosted by the DOE (Department of Energy). The goal of the competition is to design a net-zero home. A net-zero home is one that produces more energy than it consumes.
"We accomplish this by implementing renewable energy to produce our own energy and creating a building that is energy efficient as possible. There are several competition categories including Single-Family Home, Multi-Family Home, Attached Housing, Elementary School, and Office Building," said Liam.
The MSU team is in the Attached Housing division. Liam said the team is designing and employing several different innovative solutions that this competition has never seen before.
Liam said he started the Energy Club by approaching Dr. Heejin Cho, a Mechanical Engineering Professor, about wanting to start an organization based on environmentally sustainable projects that students can get involved in to promote excitement in the space.
"I then gathered around six students to work on Energy Club's first project over the summer which was a weather station powered by a solar panel and transitioned to the Solar Decathlon project in September. Since September, we have been working hard on the Solar Decathlon project with a team of around 20 students," he said.
Liam and the Energy Club are working with several different departments on campus including Architecture, Mechanical Engineering, Electrical and Computer Engineering, and Civil and Environmental Engineering. There are faculty advisors from the Architecture Department, Mechanical Department, and Civil Department working with the group, as well as several industry partner to help with their design including Tesla, CDFL, Brightline Group, Southern Company, Mississippi Solar, and LG Electronics.
Liam is currently interning at National Grid Renewables, where large scale solar installation projects are planned. After graduation, Liam says he hopes to be involved in the renewables industry, either in renewable power planning or car charger planning.
Follow Liam and the Energy Club's journey in the Solar Decathlon on social media
Instagram: msstateenergy
Facebook: Mississippi State Energy Club
LinkedIn: https://www.linkedin.com/groups/12505600/
For additional information, read the article from Landon Gibson here.
The Department of Electrical and Computer Engineering at Mississippi State University consists of 23 faculty members (including 7 endowed professors), 3 clinical faculty, 10 professional and support staff, and over 700 undergraduate and graduate students with approximately 88 being at the Ph.D. level. With research expenditure of the department in excess of $10M, the department houses the largest High Voltage Laboratory among North American Universities. For more detailed information on the department please visit our website www.ece.msstate.edu