Fall 2020 Scholars
March 5, 2021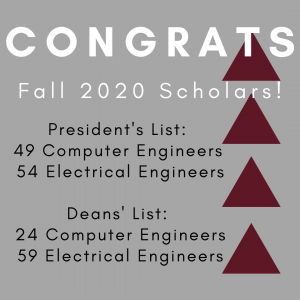 We are proud to announce that 186 undergraduates from the Electrical and Computer Engineering department were listed as Fall 2020 President's and Deans' Scholars.
Congratulations to you all. We expect your continued success.
Full lists are posted here.
The Department of Electrical and Computer Engineering at Mississippi State University consists of 23 faculty members (including 7 endowed professors), 3 clinical faculty, 10 professional and support staff, and over 700 undergraduate and graduate students with approximately 88 being at the Ph.D. level. With research expenditure of the department in excess of $10M, the department houses the largest High Voltage Laboratory among North American Universities. For more detailed information on the department please visit our website www.ece.msstate.edu.