Senior Computer Engineering Major Receives BCoE Undergraduate Research Award
March 16, 2021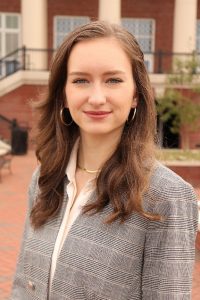 Erin Parker, a senior Computer Engineering major, was recently announced as the Bagley College of Engineering selection for the Office of Research and Development (ORED) Awards Program. The Research Awards Program is designed to honor those individuals who contribute significantly to the University's mission of research; to recognize and reward students, faculty, and support staff for their accomplishments in research and creative endeavors; and to increase awareness of MSU research programs and capabilities. Erin, who is a double major in Fashion Design and Merchandising as well, will be recognized by ORED at an event later this year.
The Powder Springs, Georgia native works with Athlete Engineering through the Center for Advanced Vehicular Systems (CAVS). "I work to create wearable device prototypes and work to validate them through human-subjects testing," Erin said. "I am also studying textiles for uses in athletic wearable devices." After graduating in May, Erin will begin working on her Master's degree in Industrial Engineering at MSU.
Dr. John Ball, Associate Professor in Electrical and Computer Engineering, is the lead researcher working with Erin. Their project focuses on creating and assessing a wearable ankle measurement system using stretch capacitive sensors. "Erin is the lead integrator for the wearable sock for the project. She is an indispensable and integral part of the team, and without her, we would not have a wearable prototype to use in the lab," he said. "Throughout the project, Erin has implemented, tested, and improved our current solution. Whatever we ask her to assist with, she jumps in and 'rolls up her sleeves' and just gets it done."
Erin's accomplishments reach beyond research. She has also co-authored two published, peer-reviewed journal articles and has submitted two conference papers as lead author.
To learn more about Dr. Ball's research, visit his website https://www.ece.msstate.edu/people/faculty/dr-john-e-ball/
The Department of Electrical and Computer Engineering at Mississippi State University consists of 23 faculty members (including 7 endowed professors), 3 clinical faculty, 10 professional and support staff, and over 700 undergraduate and graduate students with approximately 88 being at the Ph.D. level. With research expenditure of the department in excess of $10M, the department houses the largest High Voltage Laboratory among North American Universities. For more detailed information on the department please visit our website www.ece.msstate.edu.