Du Completes Faculty Leadership Development Institute
May 18, 2021
Dr. Jenny Du, Graduate Program Coordinator and Professor for ECE, was recognized as one of the 24 graduates of the university's spring 2021 Faculty Leadership Development Institute. The leadership program is sponsored by the office of Research and Economic Development and the Office of the Provost and Executive Vice President. The program includes lessons on leadership styles, organizational change, diversity, building winning research teams and organizational evaluation and assessment.
For the full story by James Carskadon, visit here.
The Department of Electrical and Computer Engineering at Mississippi State University consists of 23 faculty members (including 7 endowed professors), 3 clinical faculty, 10 professional and support staff, and over 700 undergraduate and graduate students with approximately 88 being at the Ph.D. level. With research expenditure of the department in excess of $10M, the department houses the largest High Voltage Laboratory among North American Universities. For more detailed information on the department please visit our website www.ece.msstate.edu.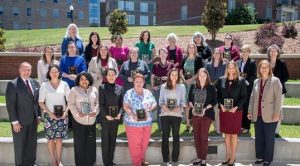 Photo by Megan Bean