ECE Presents Spring 2021 Design Awards
May 14, 2021
Congratulations to the ECE students in Intro to ECE Design and Senior Design II who placed in the top three on their design projects.
The Intro to ECE Design II class is generally taken by our ECE students in their second term at MSU. These students spend a semester working through the design process to complete a prototype of their own team design using an Arduino and a set of sensors.
Intro to ECE Design Awards: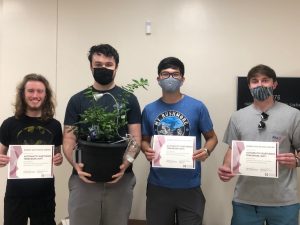 First Place: Automatic Nurturing Terrarium (ANT) – Joseph Miller, Dylan Johnson, Han Berdiyev, Isaac Martinolich, Timothy Barnette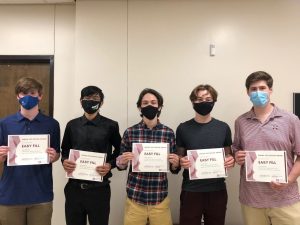 Second Place: Easy-Fill – Charles Clark, Joseph Coker, Daniel Dubois, John Paul Arnoult, Gurjyot Singh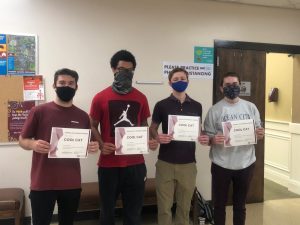 Third Place: Cool Cat – Conner Bell, George Willis, Jaydon Haymon, Nathaniel Possel
The Senior Design course is taken by students who have completed all other coursework in ECE and are planning to graduate and move on in their engineering journeys, including graduate school, military, and industry positions.
Students work in teams to utilize knowledge and skills acquired in earlier course work and incorporating appropriate engineering standards and multiple realistic constraints, such as economic, environmental, social, ethical, health and safety, manufacturability, and sustainability. Students fabricate their designs, test and evaluate the designs against specifications, and must demonstrate a fully functional project at the completion of the course.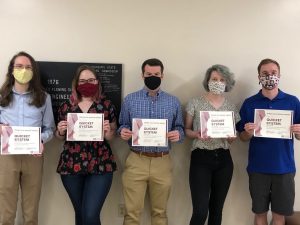 First Place: Quicket System – Drew Mohundro, Alex Bigej, Preston May, Carol Pollard, Garrett Smith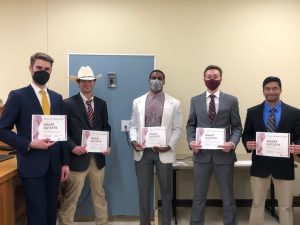 Second Place: Smart Outlet – Ryan Shoemake, Thomas Golson, Kumar Zaveri, Carvey Magee, Eric Dunaway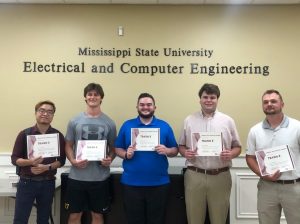 Third Place: Trash-E – Michael Newman, Easton Van Every, Randy Townsend, Khoa Pham, Dustin Weathers
The Department of Electrical and Computer Engineering at Mississippi State University consists of 23 faculty members (including 7 endowed professors), 3 clinical faculty, 10 professional and support staff, and over 700 undergraduate and graduate students with approximately 88 being at the Ph.D. level. With research expenditure of the department in excess of $10M, the department houses the largest High Voltage Laboratory among North American Universities. For more detailed information on the department please visit our website www.ece.msstate.edu.