ECE Announces 2021 ECE Teaching Assistant Award Recipient
December 16, 2021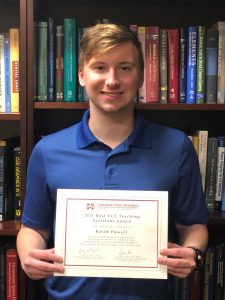 Keith Powell, a graduate student in Mississippi State University's Department of Electrical and Computer Engineering (ECE), has been recognized with the 2021 Best ECE Teaching Assistant Award.
Powell joined the department's doctoral program in 2019, and he has most recently been a teaching assistant for the labs with Embedded Systems.
"Keith was TA for Embedded Systems for two and a half years, and during this time, he revised the laboratory exercises multiple times to diversify and improve the hands-on learning experience," Associate Professor Dr. Vuk Marojevic said.
Powell said that he is honored that modifying the lab and preparing students for their careers has resonated with the students and their education.
"The most rewarding aspect of being a TA is getting to see and taking part in the students' growth over a semester or even several years," Powell said. "Having the opportunity to contribute to the next generation of successful engineers is a wonderful experience."
His hard work of going above and beyond was recognized by the students.
"He worked with students during and beyond the laboratory sessions, introduced them to research, and was available in person and virtually adapting to the students' needs," Marojevic said.
Powell's expected graduation date is May 2023, and his research and interest areas are in software-defined radios (SDRs), embedded systems, and 5G security. He is also involved in the AERPAW project, which involves the use of open-source software to create LTE and 5G cellular networks with UAVs.
"I came into the ECE department as a graduate student working under Dr. Marojevic. I have been given plenty of opportunities to grow and become an expert in my field," Powell said. "Both professors and students show tons of passion in their work, and it's fantastic when everyone comes together to create the next big thing."
The ECE Teaching Assistant Award is an annual recognition within the department that includes a $500 award. It is designed to acknowledge the hard work and dedication of a graduate student who is assisting students.
The Department of Electrical and Computer Engineering at Mississippi State University consists of 27 faculty members (including 6 endowed professors), 7 professional staff, and over 700 undergraduate and graduate students with approximately 100 being at the Ph.D. level. With research expenditure of the department in excess of $13M, the department houses the largest High Voltage Laboratory among North American universities. For more detailed information on the department, please visit our website www.ece.msstate.edu.