ECE Coordinator Recognized by University
May 12, 2021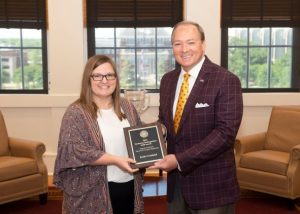 Kylie Crosland was recently announced as a 2021 Zacharias Distinguished Staff Award recipient. The Undergraduate Program Coordinator for Electrical and Computer Engineering (ECE) was presented with the award during MSU's Staff Appreciation Day.
Kylie is an integral part of the ECE Department. During her four years as program coordinator, she has served as a role model, a sounding board, and the go-to for policies and procedures, not only for students but also for faculty and staff. Her knowledge of the undergraduate programs, as well as the university, is expansive.
With the ECE program consistently growing, Kylie has served as the advisor for as many as 545 students in a single semester. Students respect and admire her and her dedication to their success. One student said she "makes her students feel both nurtured and independent." Kylie creates different opportunities for students to learn and understand different aspects of engineering, helping them determine what paths they can take to reach their goals.
She is also an active leader at MSU and in the community. She has served as an executive board member of MSU's Advisors Council since 2015 and is currently the state liaison for NACADA. Kylie was also a co-coordinator for the 2021 NACADA Regions 4 and 7 Joint Conference. She has also been involved in Starkville Junior Auxiliary, Starkville Area Arts Council, Starkville Parent Teacher Organization, and First United Methodist Church.
"She exemplifies professionalism and dedication. Her dedication and professionalism shine out to all that interact with her," said Dr. John Ball, Associate Professor for ECE. "She demonstrates initiative and excellence in her work. She has earned a reputation with students, faculty, and staff as a competent and professional advisor."
Dr. Jean Mohammadi-Aragh agreed. The assistant professor added "Kylie provides exceptional advising to engineering students. She also serves as an advisor to ECE faculty and staff through her knowledge of institutional regulations and caring and helpful attitude."
For full information about the Zacharias Distinguished Staff Award, click here.
The Department of Electrical and Computer Engineering at Mississippi State University consists of 23 faculty members (including 7 endowed professors), 3 clinical faculty, 10 professional and support staff, and over 700 undergraduate and graduate students with approximately 88 being at the Ph.D. level. With research expenditure of the department in excess of $10M, the department houses the largest High Voltage Laboratory among North American Universities. For more detailed information on the department please visit our website www.ece.msstate.edu.