Zhao and Ye Collaborate to Win Best Paper at 2021 IEEE PES General Meeting
May 14, 2021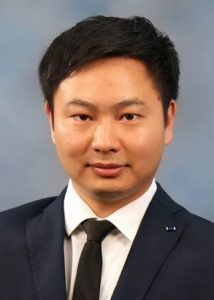 Dr. Junbo Zhao of the Department of Electrical and Computer Engineering (ECE) along with his Ph.D. student Ketian Ye and colleagues Drs. Nan Duan and Can Huang from the Lawrence Livermore National Laboratory and Drs. Ding Fei and Rui Yang from National Renewable Energy Laboratory won the best paper award at the 2021 IEEE Power and Energy Society (PES) General Meeting for their paper entitled "Data-driven Global Sensitivity Analysis of Three-Phase Distribution System with PVs".
The IEEE PES General Meeting is the flagship conference in Power Engineering field. Every year, more than 1,000 papers are submitted to the conference and after a rigorous review process, 60-80 papers are included in the best paper program. For the 2021 edition, only 32 were selected.
The work performed by Dr. Zhao, Ye, and the project team reported a novel global sensitivity analysis framework to study the impacts of uncertain PVs for distribution system voltage security. "The developed technique allows us to quantify how each PV and its interactions with other PVs affect distribution system voltage. The study provides a global view of how to coordinate different PVs in regulating distribution system voltages, significantly benefiting the secure integration of more solar PVs," stated Dr. Zhao, assistant professor of ECE at the Mississippi State University.
"Dr. Zhao has been doing excellent research in connecting theories with practical industry needs. This award is a recognition not only for him but a great point of pride for the Department," said Dr. Khan, the ECE Department Head.
He also had another co-authored paper entitled "Robust Nonlinear Controller for Wind Turbine Generator Drivetrain Torsional Oscillation under Large Disturbances" selected for the best paper award.
For more information about Dr. Zhao, please visit his webpage.
The Department of Electrical and Computer Engineering at Mississippi State University consists of 23 faculty members (including 7 endowed professors), 3 clinical faculty, 10 professional and support staff, and over 700 undergraduate and graduate students with approximately 88 being at the Ph.D. level. With research expenditure of the department in excess of $10M, the department houses the largest High Voltage Laboratory among North American Universities. For more detailed information on the department please visit our website www.ece.msstate.edu.