ECE Senior Receives NSF Graduate Fellowship
April 7, 2021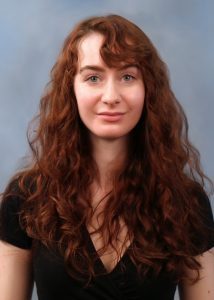 Zoe Fowler, a senior Electrical Engineering major, was recently awarded a Graduate Fellowship from the National Science Foundation (NSF). The Graduate Research Fellowship Program recognizes and supports outstanding graduate students in NSF-supported STEM disciplines who are pursuing research-based master's and doctoral degrees at accredited US institutions.
Zoe's current research is developing a foreground extraction method to help conservation biologists identify locations of camouflaged snow leopards. She is working with Dr. James Fowler, Mississippi State Electrical and Computer Engineering (ECE) Professor, and Dr. Agnieska Miguel, Associate Professor and Department Head of ECE at Seattle University. Using images from Panthera, an organization devoted to the conservation of wild cats and their environments, Zoe tested her method to correctly identify where snow leopards were located in each image.
The Columbus native has been participating in various research projects throughout her time at Mississippi State. As a freshman, she began her research with ECE Assistant Professor, Dr. Jean Mohammadi-Aragh. She also worked on toy adaptation under Dr. Mohammadi-Aragh, where she and her teammates modified toys that were then donated to the T.K. Martin Center for Technology and Disability.
Zoe participates in several groups on campus including Tau Beta Pi Engineering Honor Society, Phi Kappa Phi Honor Society, serves as an ECE Ambassador, and has served as Secretary of Mortar Board National Senior Honor Society. She was chosen for the Astronaut Scholarship in 2020, and also received the Bagley College of Engineering Dean's Undergraduate Research Award her sophomore and junior years.
After graduating this semester, Zoe will be attending graduate school. While she may continue with her current research, she says she is open to other possibilities. The fellowship allows her to pursue other areas of research outside of her proposal. Zoe hopes to eventually become a professor, running her own research laboratory.
When asked what advice she would give to students interested in research, Zoe encourages others to get involved early. "Don't be scared to reach out to your professors. Take advantage of their office hours. Our professors are really nice and really want to help out."
"We are very proud of Zoe and all that she has accomplished while at MSU," said Kylie Crosland, Program Coordinator for ECE. "She has shown great leadership as an ECE Ambassador, and she also has a knack for learning and research. I am excited to see what her future holds."
For further information about Dr. James Fowler and his research, visit https://my.ece.msstate.edu/faculty/fowler/
For more information about Dr. Jean Mohammadi-Aragh, visit her website https://www.ece.msstate.edu/people/faculty/jean-mohammadi-aragh/
The Department of Electrical and Computer Engineering at Mississippi State University consists of 23 faculty members (including 7 endowed professors), 3 clinical faculty, 10 professional and support staff, and over 700 undergraduate and graduate students with approximately 88 being at the Ph.D. level. With research expenditure of the department in excess of $10M, the department houses the largest High Voltage Laboratory among North American Universities. For more detailed information on the department please visit our website www.ece.msstate.edu.