Luo receives NSF grant
October 14, 2021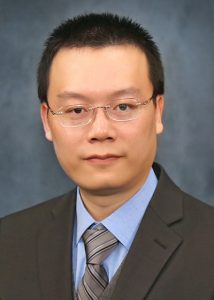 Yu Luo, assistant professor in electrical and computer engineering (ECE) department at the Mississippi State University, recently secured a grant from the National Science Foundation to study Internet of Things (IoT).
According to Statista, the number IoT connected devices worldwide will be 38.6 billion by 2025. IoT involves a larger number of sensors, actuators, and other lower power devices. Powering such many devices is a big challenge.
"Our main objective is to investigate the sustainable, efficient, and secure solutions for low-power IoT devices," stated Dr. Luo.
In this project, Dr. Luo and his team will develop an efficient power management strategy to better utilize the harvested energy. He will also design energy-preserving time synchronization and node activation circuit and investigate the unique security challenges and solutions in renewable energy powered IoT.
According to Dr. Luo, "Our project will promote the application of renewable energy-powered wireless networks in a wide range of IoT applications and enhance the scalability, sustainability, and security of the current IoT system."
"Dr. Luo has been working on some of the most complex problems related to intermittently available IoT systems. His recent NSF grant will further advance our understanding of robustly operating IoT systems in harsh environments," said Dr. Khan, ECE Department Head.
Dr. Luo is collaboratively undertaking this project with Dr. Lina Pu (University of Alabama). For more information about the project, visit this link.
For more information about Dr. Luo, visit his website.
The Department of Electrical and Computer Engineering at Mississippi State University consists of 27 faculty members (including 6 endowed professors), 6 professional and support staff, and over 700 undergraduate and graduate students with approximately 100 being at the Ph.D. level. With research expenditure of the department in excess of $13M, the department houses the largest High Voltage Laboratory among North American Universities. For more detailed information on the department please visit our website www.ece.msstate.edu.