UAS safety research grant awarded
January 12, 2022
Three members of Mississippi State University's Department of Electrical and Computer Engineering are part of a team that was recently awarded a grant focusing on unmanned aircraft systems (UAS).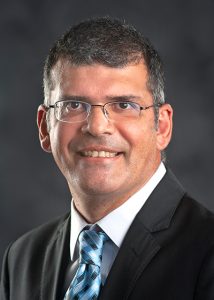 Drs. John Ball, Samee U. Khan, and Bo Tang will work in close collaboration with the university's Raspet Flight Research Laboratory (RFRL) on the project titled "Evaluation of Unmanned Aircraft Systems (UAS) Integration Safety and Security Technologies in the National Airspace System (NAS) Program." The project's principal investigator is Shawn McNutt, an aviation program manager in the RFRL, which is a nationally recognized leader in the field of experimental aviation research.
The Mississippi State University team will study myriad of topics with the approximately $1.9 million award, and it is part of an effort to study the safety of unmanned aircraft systems and safety from the unauthorized use of them. This multi-institutional project includes participation from the University of Alaska – Fairbanks, the University of North Dakota, New Mexico State University, the University of Alabama – Huntsville, and MSU, and it is support by a Federal Aviation Administration grant of approximately $18.5 million.
For more information on Associate Professor and Robert D. Guyton Chair Dr. Ball, please visit https://www.ece.msstate.edu/people/faculty/dr-john-e-ball/.
For more information ECE Department Head, Professor, and James Worth Bagley Chair Dr. Khan, please visit https://www.ece.msstate.edu/people/faculty/samee-u-khan/.
For more details about Assistant Professor Dr. Tang, visit https://www.ece.msstate.edu/people/faculty/dr-bo-tang/.
The Department of Electrical and Computer Engineering at Mississippi State University consists of 27 faculty members (including 6 endowed professors), 7 professional staff, and over 700 undergraduate and graduate students with approximately 100 being at the Ph.D. level. With research expenditure of the department in excess of $11.94 million, the department houses the largest High Voltage Laboratory among North American universities. For more detailed information on the department, please visit our website www.ece.msstate.edu.