ECE's Inaugural Research Symposium
October 27, 2021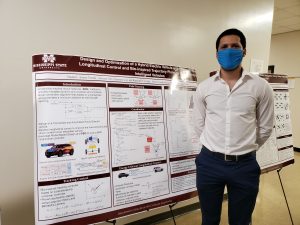 Friday, October 15, the ECE Graduate Committee hosted it's Inaugural ECE Research Symposium.  The ECE Graduate Committee would like to announce that the Best Presentation award goes to Mr. Amine Taoudi for his presentation entitled "Design and optimization of a hybrid electric vehicle with energy efficient longitudinal control and bio-inspired trajectory planning and tracking." He is advised by Drs. Chaomin Luo and Randy Follett. Congratulations!
Check out the amazing work our graduate and undergraduate researchers are doing to positively affect our world through technology.
Presentations: 
1. Effects of Filler Composition, Loading, and Geometry on the Dielectric Loss, Partial Discharge, and Breakdown Strength of Deformable Liquid Metal Polymer Composites 
Authors: Robert E. Calabrese, Elizabeth Bury, Farhina Haque, Amanda Koh, and Chanyeop Park 
2. Development of Epoxy and Silicone based Nonlinear Resistive Field Grading Materials for High Voltage Equipment 
Authors: Omar Faruqe, Farhina Haque, and Chanyeop Park 
3. Electret: A Remedy for Partial Discharge and Surface Flashover in Power Electronic Converter Driven Shipboard Power Systems 
Authors:  Farhina Haque, Omar Faruqe, and Chanyeop Park 
4. Transformer Fault Event Detection and Classification Using PMUs 
Authors: Yadu Paudel and Yong Fu 
5. Smart Partitioning based Fully Distributed AC Optimal Power Flow 
Authors: Yuehong Peng and Yong Fu 
6. Short-Term Electricity Price Forecast using Frequency Analysis and Price Spikes Oversampling 
Authors: Chengxu Zhang and Yong Fu 
7. An UGV-based Forest Transmissivity Mapping Using GNSS Signals Acquired by Smartphones and Custom Receivers 
Authors: Md Mehedi Farhard and Mehmet Kurum 
8. Unmanned Ground Vehicle System to Collect Soil Moisture Data 
Authors: Austin Flynt and Mehmet Kurum 
9. Implementation of UAS-based P-Band Signals of Opportunity Receiver for Root-Zone Soil Moisture Measurement 
Authors: Preston Peranich, Mohammad Abdus Shahid Rafi, and Mehmet Kurum 
10. Toward Ubiquitous and Flexible Coverage of UAV-IRS-Assisted NOMA Networks 
Authors: Chun-hung Liu, Md Asif Syed, and Lu Wei 
11. W3D: Wavelet based 3D Object Detection for Autonomous Driving Application 
Authors: Simegnew Yihunie Alaba and John E. Ball 
12. Measuring Autonomous Traversability in Off-road Environment Using MAVS 
Authors: Fahmida Islam, John E. Ball, and Chris Goodin 
13. FedLGA: Towards System-Heterogenerity of Federated Learning with Local Gradient Approximation 
Authors: Xingyu Li, Zhe Qu, Bo Tang, and Zhuo Lu 
14. Deep Learning-base Soil Moisture Estimation in CONUS Region Using CYGNSS Delay Dopper Maps 
Authors: M. M. Nabi, Volkan Y. Senyurek, and Ali Gurbuz 
15. Spatial-Aware Collaboration-Competition Preserving Graph Embedding for Hyperspectral Image Dimensionality Reduction 
Authors: Chiranjibi Shah and Qian Du 
16. Bilogically Inspired Automonous Robot Navigation with Adaptive Speed Paradigm 
Authors: Tingjun Lei and Chaomin Luo 
17. Planning Optimal Trajactory Through Histogram-Enabled Mapping and Navigation Using PSO Model 
Authors: Timothy Sellers and Chaomin Luo 
18. Design and Optimization of a Hybrid Electric Vehicle with Energy Efficient Longitudinal Control and Bio-inspired Trajectory Planning and Tracking for Intelligent Vehicles 
Authors: Amine Taoudi, Chaomin Luo, and Randolph F. Follet 
19. A Hybrid Routing Method for Energy-Aware Wireless Sensor Network 
Authors: Ying Yang and Yu Luo 
20. Deep Reinforcement Learning based Robot Navigation Using Global Path Identified by Advised RRT 
Authors: Pradeep Chintam and Chaomin Luo 
 Special thanks to our judges: Ali Gurbuz, Bo Tang, Chaomin Luo, Chun-hung Liu, Jane Moorhead, Jenny Du, Yong Fu 
The Department of Electrical and Computer Engineering at Mississippi State University consists of 23 faculty members (including 7 endowed professors), 3 clinical faculty, 10 professional and support staff, and over 700 undergraduate and graduate students with approximately 97 being at the Ph.D. level. With research expenditure of the department in excess of $10M, the department houses the largest High Voltage Laboratory among North American Universities. For more detailed information on the department please visit our website www.ece.msstate.edu.